Robert Whiting, 1898-1919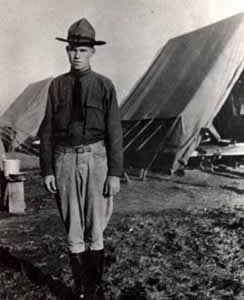 Robert Whiting, son of Nelson (Frank) and Nellie (Attix) Whiting, died at Langress, France at the end of World War I. Since his mother was in very poor health, the family travelled from place to place. They lived in a mountainous district of Kentucky, then went to Concinnati, Ohio. A little later they moved to New York City and then to New Jersey. They moved from there to Montana and finally to the Pacific Ocean. Before Robert was ten years old he had seen both teh Atlantic and Pacific oceans.
On their second visit to the west coast, Robert's mother died and he went to Montana to live with his uncle and later to Clitherall where he lived with other relatives including his grandparents, Isaac and Jennie Whiting. While in France, he wrote many letters home to them.
In October 1911 Robert went alone to Oklahoma where his father, who had married again to Martha Clara Ihno, was agent on the Santa Fe Railroad. From there Robert went to St. Paul, Minnesota and then to Melchor, Iowa, where his father and step mother had settled.
In the summer of 1916, a few months before his eighteenth birthday, Robert enlisted and was sent to Camp Grant, Illinois and then to Camp Cody, New Mexico. His desire was finally met when he was sent to France, just in time to be in the battle of Chateau Thierry. He was also at Argonne and at Mentz, and was at Verdun when the Armistice was signed. Robert passed through all of these battles without even being wounded. In his last letter to his grandmother at Clitherall, he wrote that the climate there agreed with him, that France was all right, but that he wanted to be back in the "good old U.S.A. the best place on earth."
Robert expected to reach the United States on January 5, but when the ship left for home he was too sick to join his comrades and remained in the hospital. It seems very sad that after passing through all the dangers and hardships of the war, that he was stricken with disease and died in far off France among strangers.
Robert is buried in St. Mihiel American Cemetery in Thiaucourt, France.
Robert Whiting
Private, U.S. Army
102nd Field Artillery Regiment, 26th Division
Entered the Service from: Minnesota
Died: January 10, 1919
Buried at: Plot B Row 21 Grave 31
St. Mihiel American Cemetery
Thiaucourt, France