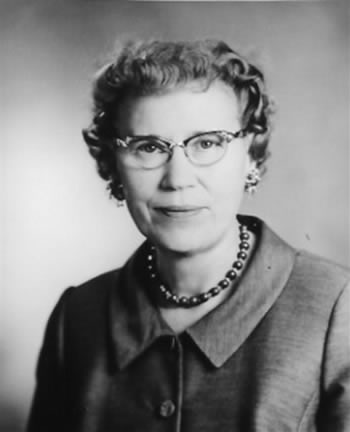 ANNA MARIE JENSEN
Born May 19, 1897 in Alden MN
Died April 17, 1989 in St. Paul, MN
Father: Jorgen Krystian Jensen
Mother: Ane Eline Nielsen

Anna was the eighth of nine children born to Jorgen Krystjan Jensen and Ane Eline Nielsen. She was reared by her mother in the small town of Alden, MN. The family lived there after her father had left because of remorse for his alcoholism. She attended elementary school there, completed a business school course in Chicago where she lived with her sister Martha,and returned to Alden where she worked in a bank. It was there that she met Claude Allen who had come from South Dakota. Several years later Claude moved to St. Paul where he enrolled in the St. Paul College of Law. He also took correspondence courses to complete his high school education and worked in the probate court. The two were married in 1922. Anna worked as a stenographer to supplement Claude's meager income. They had two children, John born in 1925, and Doris born in 1929.
I always had a great time when I visited my grandparents in St. Paul. "Grandma Anne" always dressed elegantly and was a marvelous cook. She would just "whip something up" and the result would be absolutely delectable. We would go shopping together and she would help me pick out really great looking outfits. Grandma Anne was always very thoughtful and considerate. One of my fondest memories is when I started a new job at a library. It was my birthday. I was hard at work when I looked up and, to my surprise, saw my grandmother walzing into the library, carrying a birthday cake for me. She saved the day, as I learned later that the "birthday person" was reponsible for bringing a treat for everyone else!
Grandma always loved to travel. After her two children grew up, she and Claude literally travelled around the world--to South America, Brazil, Hong Kong, Australia and Europe. She also visited her Danish relatives. The final trip Claude and she made was to Norway where they took a cruise that went to the North Pole.
Grandma Anne worked to keep family ties intact and organized a number of family reunions.